It's in 1981 that, under the leadership of Leo Danloy, president of the Centre of La Roche-en-Ardenne, this gastronomic brotherhood was created to promote the Purnalet, a liquor made of brandy and sloes, a typical product from La Roche. Leon Danloy entrusted this mission to two directors: Paul Lambert and André Linchet.
These two childhood friends, animated by the love of their city and its traditions, gathered a group of Rochois and Rochoises. They were aided and advised by Alphonse Zimmer, honorary director of the TFBL.
A dress evoking that of the inhabitants at the beginning of the century was chosen. Recruits were designated "Grand Maistre" and founding member.
Each Grand Maistre has a colloquial nickname that evokes its function inside the brotherhood or in civilian life, but also his capacity or key feature.
The brotherhood is also made of Maistres, Aspirants en Dauphins. The inductees medalists in the other end get the title of Compagnon purnali.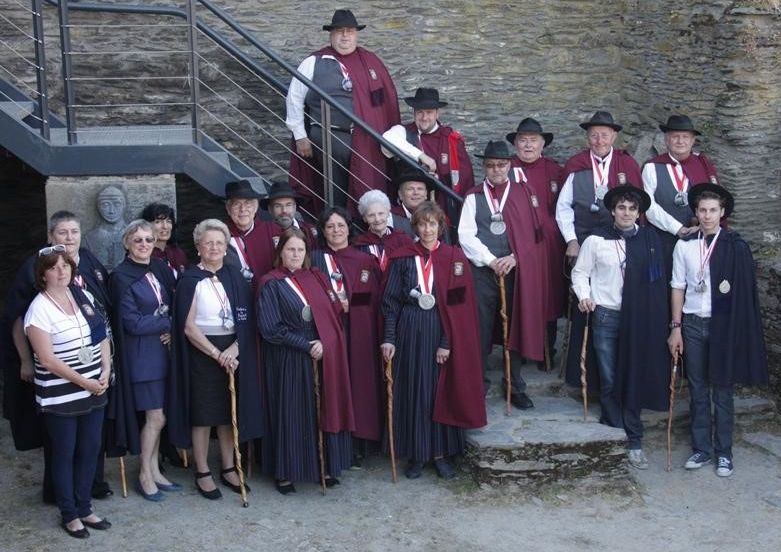 The Purnalet was born a long time ago. Its origin dates back to Roman times where oral tradition tells us that at this early stage, Romans planted grape vines on the southern slopes of the Deister. To do so, they tore mulberry trees and blackthorns off. But the stocks of the vines did not resist to the poor soil, nor the rigors of the Ardennes winter. They perished and with the nature resuming its rights, the original flora reappeared even stronger.
If the occupant miserably failed in his winery attempt, our ancesters on their end already knew the secret of "Purnalet". Once picked, sloes were put to macerate inside big glazed terra cotta pots, similar to the ones from the actual La Roche's sandstones, with aspecific dosage of sugar and neutral brandy.
This beverage is tasted after 3 months of maceration and then delivers all its benefits: strength, health, good mood and … love were among the qualities that the Rochois recognized him. Nothing has changed today and, thanks to the wise advice of the elders, the Purnalet retains its quality. Every year around the month of October, the great Maistres from the brotherhood get to work and, in January, you get to taste the authentic Purnalet from La Roche (always served fresh).
The brotherhood, established as an association, quickly gained autonomy through the annual revenue from the manufacture and sale of the Purnalet (trademark), made by the brotherhood members themselves.
1. The picking
The fruits of blackthorn (neures espines = black spines) are harvested in October when they have reached maturity.

2. The notching and maceration
After their incision, they are put in maceration with a dosage of sugar and neutral brandy.

3. The bottling and labeling process
Once the mix is ready, the members of the brotherhood proceed to the bottling and labeling process of their product.